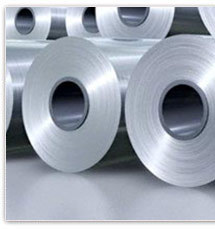 Special Steel
Product Code : 55
Product Description
Owing to our well equipped manufacturing and veteran workforce, today, we are fulfilling the bulk orders of clients for Special Steel. These steels are largely used in metal processing industries for producing bars, plates, sheets, pipes and tubes. We employ ultra modern techniques and quality approved steel to manufacture Special Steel in accordance with industry set norms and standards. In addition, we offer these steels to the clients at an affordable price.
Features:
High compressive strength
Rust proof
Long lasting finish

Further Details:

We are stockits and suppliers of stainless steel with precipitation hardening 17/4PH, duplex and super duplex grades. Austenitic, martensitic and ferritic specifications stocked in a large range of shapes and sizes.

Reliable stock a wide range of engineering steels including carbon steel and alloy steel, key steel, Titanium, Tantalum, Nickel, Cupro - nickel, Zirconium, Hastelloy, Incolloy, HR Alloy, Alloy 20, Monel, Inconel, stainless Steel, Niobium, Nimonics, Duplex and Spring Steel products.
Non standard sizes can be produced as steel forgings.
| | | | | |
| --- | --- | --- | --- | --- |
| GRADE | Duplex Alloy 19D | Duplex Alloy 2205 | Super Duplex Alloy 2507 | Alloy: 250 SMO Nominal Composition in Percent: |
| UNS No. | S32001 | S31803 | S32750 | Ni 18.00 |
| Carbon | 0.030 max. | 0.03 max. | 0.030 max. | Cr 20.00 |
| Manganese | 4.0 min. / 6.0 max. | 2.00 max. | 1.20 max. | Mo 6.25 |
| Phosphorus | 0.040 max. | 0.030 max. | 0.035 max. | Fe 53.00 |
| Sulfur | 0.030 max. | 0.020 max. | 0.020 max. | Si 0.80 |
| Silicon | 1.00 max. | 1.00 max. | 0.80 max. | Mn 1.00 |
| Chromium | 19.50 min. / 21.50 max. | 21.00 min. / 23.00 max. | 24.00 min. / 26.00 max. | C 0.020 |
| Nickel | 1.00 min. / 3.00 max. | 4.50 min. / 6.50 max. | 6.00 min / 8.00 max. | Cu 0.75 |
| Molybdenum | 0.600 max. | 2.50 min. / 3.50 max. | 3.50 min / 5.00 max. | P 0.030 |
| Nitrogen | 0.050 min. / 0.170 max. | .08 min. / .20 max. | 0.24 min / 0.32 max. | S 0.010 |
| Copper | 1.00 max. | *** | 0.50 max. | N 0.20 |
| | | | | |
| --- | --- | --- | --- | --- |
| GRADE | Duplex Alloy 19D | Duplex Alloy 2205 | Super Duplex Alloy 2507 | Alloy: 250 SMO Nominal Composition in Percent: |
| UNS No. | S32001 | S31803 | S32750 | Ni 18.00 |
| | | | | |
| | | | | |
| | | | | |
| | | | | |
| | | | | |